Pictures may take a few seconds to download

Godzilla

vs Destoroyah
Art Institute
If my site is a Godzilla vs Destoroyah museum, then this would be the art gallery. Of course, my site is full of pictures, but this is section is especially devoted to an ever-growing selection of scenes, pictures, and artwork.
There really isn't a guided tour, but the Information Desk might be a nice place to start. It tells a little bit about the Art Institute and gives a sitemap featuring the different exhibits. From this entrance page, you can click on any icon in the museum floor plan below.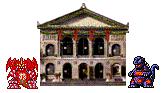 ---
Thanks to Chris Scalf for permitting me to use his burning Godzilla artwork
Go back to the Title page