Pictures may take a few seconds to download
Tokyo, Massachusetts
Tokyo may be the home of Godzilla, but if there's one other place a Godzilla fan needs to make a pilgrimage to, it has to be Boston, Massachusetts (with apologies to Atlanta and Ft Lee, NJ).
In a walkable area of Cambridge (across the Charles River from Boston), there are three Godzilla collectible stores! And thanks to Micah's and Dulce's infinite patience, we were able to visit all three this past March 1999 (and later trips). All can be reached via Boston's MBTA subway, known as the "T".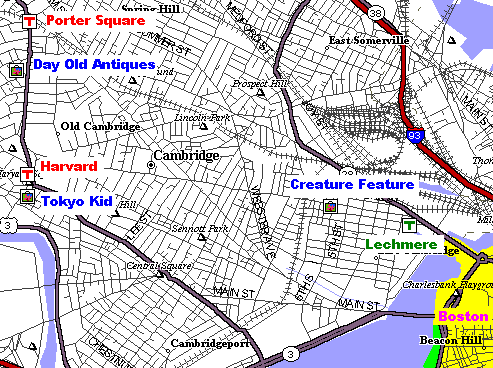 Day Old Antiques
This was the location when I last visited here. Now the store has moved to suburban Wellesley.

Lots of stuff here, especially rare vinyls and motorized DX figures.
See Day-Old Antiques' web page.
Tokyo Kid
Take the Red Line to Harvard Square Station, and and it's a short walk to the Garage Mall on 36 JFK St.

Tucked away in the Garage Mall near Harvard, this store was full of candy toys, videos, and books. They also have loads of other Japanese items, even pornographic cartoons (no kidding!).
See Tokyo Kid's web page
Creature Feature Productions
Take the Green Line to Lechmere Station, and walk 6 blocks down Cambridge Street to 3A 8th Street.

Excellent selection with Fabian, extremely knowledgeable and enthusiastic. Lots of vinyl figures, models, laserdiscs, posters, he has it all. He has a web page, but you'll have more success by just calling him.

Look how much fun I'm having!!
After a working up an appetite shopping, there's only one place to go in Boston: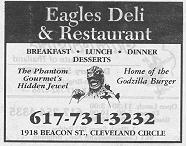 No, I didn't: even I have my limits!
Click Destoroyah to see my proper Bostonian figures!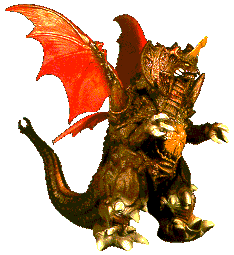 ---
Want to see more about Boston? Check out our trips to Boston in our home page.
Go Back to the Collection Page.