Pictures may take a few seconds to download

Ÿ Click for a larger picture

About Destoroyah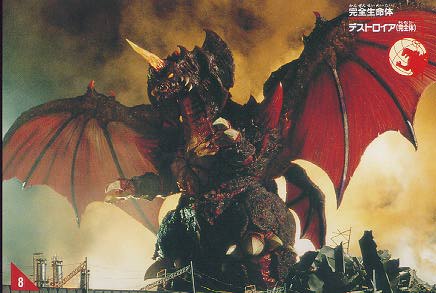 ---
Form

Kurotai (Crawling form)
Yotai (Juvenile form)
Shugotai (Aggregate form)
Heshotai (Flying form)
Kansentai (Final form)

Height

5 mm (0.2 in)
2 m (6 ft)
50 m (160 ft)
65 m (210 ft)
120 m (394 ft)

Weight

0.5 g (0.01 oz)
350 kg (770 lbs)
15,000 tons
15,000 tons
88,000 tons

Wingspan

-
-
-
80 m (260 ft)
210 m (680 ft)


Destoroyah's transformations
AKA: Destroyer, Desutoroia, Destroyah, Destroia, Oxygen Destroyer
Background: Destoroyah was originally a microorganism from the Precambrian era (over 550 million years ago), which had an atmosphere void of oxygen. Dr Serizawa's oxygen destroyer, used to kill Godzilla in 1954, revived the creature in Tokyo Bay. However, it was not discovered until Dr Ijuin's micro-oxygen experiments in 1996. Destoroyah eventually morphed into many forms. Listed below are the approximate names I got from Japanese books. For pictures of the stages, click on the yellow graphic above.
Kurotai (Crawling form) was Destoroyah's first form. Somewhat resembling a red horseshoe crab, it escaped Dr Ijuin's lab by eating through a glass beaker. Moving on to Shinagawa Aquarium, it fed on fish by removing their oxygen. Apparently, this was preceded by the Bishoutai (microscopic form).
Yotai (Juvenile form) were actually a multitude of six-legged human-sized monsters that attacked en masse. The creatures were impervious to conventional weapons and strong enough to tear a car apart. Weapons included a micro-oxygen ray that blasted people and shot through walls as well as an Aliens-type pincer jaw. Extreme temperatures seemed to have an effect on the creatures, as flame-throwers from the police and later freeze rays from the military stopped them.
Shugotai (Aggregate form) grew from the merging of human-sized creatures after the attack by the military. Resembling those creatures, but larger, it had two thorny appendages and claws which served to smash tanks and throttle Godzilla Junior. Its ray was also more powerful, as it destroyed tanks and buildings. Destoroyah was well suited to combat Junior, with the ray, its strength, and thorny outcroppings that impaled its enemy. Furthermore, it was able to use its pincer jaw to penetrate Junior's skin and inject harmful micro-oxygen, although apparently Junior just shrugged this off. Junior's newly acquired ray dismembered and finally defeated the Aggregate form.
Heshotai (Flying form) is perhaps Destoroyah's most terrifying form. With the military smashed, he terrorized Tokyo uncontested, his flight causing shock waves that exploded buildings below.
Kansentai (Final form) is the ultimate manifestation of the oxygen destroyer. Towering over Godzilla, encased in armored skin, prickling with horns, shooting steam from its ears, this massive bipedal winged demon is by far my favorite kaiju. Therefore, it gets some extra coverage.
Strengths: The Final Form Destoroyah was one of Godzilla's most powerful enemies. He was able to ward off Godzilla's super-heated red ray (which usually dispatched Godzilla's enemies very quickly), while the blast from Destoroyah's micro-oxygen ray was as potent as MechaGodzilla's plasma grenade. The laser horn provided another offensive weapon, as he was able to slice into Godzilla's hide. His sheer strength was his greatest asset, being able to slam Godzilla down numerous times (while unaffected by Godzilla's physical attacks), dropping Junior to his death, as well as dragging and throwing Godzilla with its tail. I also liked how he could separate into a swarm of smaller aggregates to attack Godzilla.
Weaknesses: It appeared that Destoroyah's oxygen-destroying capabilities waned as he grew larger, because its so-called micro-oxygen ray did not cause Godzilla any major oxygen-related damage (choking, losing skin, etc). Destoroyah was also susceptible to temperature extremes, freezing at -138°C (-216°F). A mixture of Godzilla's super-heated atomic breath, runaway radiation, and the Super X-III's freeze cannon weakened Destoroyah to where Godzilla could gain the upper hand. The Final Form was also very slow and plodding when on the ground, not unlike every other Heisei monster.
My thoughts: Destoroyah is my favorite kaiju (more or less means "monster" in Japanese). Seeing that he was larger than Godzilla also emphasized him as Godzilla's toughest foe. When I first saw a picture of Destoroyah, I assumed that he was a lean and somewhat agile demon. I suppose I was later a little disappointed to see how slow and bulky he was. Still, his breath weapon was as damaging as any monster ray and he was strong enough to physically knock Godzilla around.
| | |
| --- | --- |
| | Most of all, I consider Destoroyah my favorite Godzilla opponent because I like the craggy, massive look of the final form. I was thrilled to get my SuperWalk Destoroyah, so I could have a realistic representation of him in my collection. Since then, I've amassed twenty-two different Destoroyah figures!! |
The background sound was Destoroyah's final form roar. To hear the others, click on the forms below (the Flying Form has my favorite roar):
---
The length, not height, is measured on the Flying Form.
Go Back.