Pictures may take a few seconds to download
Nagasakiya Godzilla 2000 Cards
I don't know the exact name for this group of cards Mark Obert sent me, but they are put out by Nagasakiya. There are no English words on them, plus I got them loose, so there is no box to look at. I'm assuming it's a Godzilla 2000 set, since I have some cards with him on it. Here are some of the cards featuring Godzilla vs Destoroyah, front on the left, back on the right. At the bottom is one of the postcards he sent.
The Godzilla 2000 card had a purple/chrome/luster to it

Little Godzilla!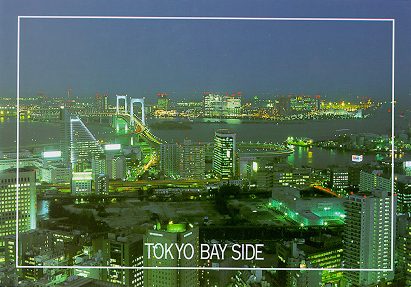 "Tokyo Waterfront Subcenter: Shown in the photo is the rainbow bridge across Tokyo port and developping [sic] "Rainbow town" in the rear, which altogether became a new landscape of Tokyo"
---
Go Back to
Godzilla Cards